This week in the Cryptosphere: Vitalik Buterin said that high Ethereum fees might be gone even before ETH 2.0, and DeFi darling yearn.finance crashed 60% from its ATH, while Virgin Galactic Chairman said BTC can't be correlated to traditional assets. TaoTao said it "ended negotiations" with Binance, and the SBI Group snapped up a controlling stake in TaoTao from Yahoo Japan. BitMEX crackdown might turn the regulatory eye towards DeFi, while the exchange saw large drops in open interest and BTC balances, and then Hayes stepped down from his 100x Group CEO role. MetaMask revealed a token swap feature as it surpassed 1m monthly active users, and Ripple won a major battle in court with one more claim left to battle out.
But wait! There's more. The South Korean central bank announced its CBDC pilot for 2021, digital yuan testers spent USD 52 per transaction on average, Europol called on EU members to press crypto businesses to enforce tighter KYC policies, and the OCC may clarify if banks can hold private coins. The SEC invited innovators in the crypto space, saying that stocks may become tokenized, and it also said John McAfee was promoting ICOs without disclosing he was paid to do so. Investors keep ignoring Indian crypto ban rumors as Tim Draper backed Unocoin exchange, BMW Korea launched a blockchain-powered "lifestyle" platform, and Bitcoin-inspired art sold for over USD 131,000 at Christie's.
And now, here are this week's crypto jokes. Enjoy!
__________
Morning, Crypto Twitter! What will you be doing today?
__
A wanted man still at large.
__
Who said crypto terminology is difficult?
Coddiwompling towards hyperbitcoinization. pic.twitter.com/nu5KI2JNdf

— Gigi ☯️☣️ (@dergigi) October 5, 2020
__
Because it's transparent, you know how many hours they'll be late.
"I'm here to solve a problem with a blockchain" pic.twitter.com/oZHnlzReoO

— Dan Held (@danheld) September 28, 2020
__
You see… Totally fixed it.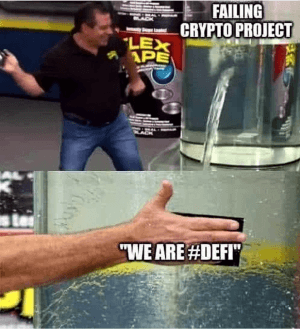 __
Is Trump a degen?
Wow, finally a trump message I can get behind! pic.twitter.com/hTANwlVStJ

— ฿ully (@BullyEsq) October 7, 2020
__
Just a teensy-weensy bit.
__
Eternal dip.
When you keep buying the dip but price keeps on dipping#Altcoins $BTC pic.twitter.com/bKbWTtXkMl

— Altcoin Sherpa (@AltcoinSherpa) September 6, 2020
__
If you ever wondered what that dynamics looks like.
Bitcoin vs Bears pic.twitter.com/ljqNf2RqiP

— Jameson Lopp (@lopp) October 6, 2020
__
Or it could go like this.
Bears at $10k pic.twitter.com/8r7Hhz5ib1

— CryptOrca (@CryptOrca) October 2, 2020
__
Derivatives and bovine faeces.
Me looking at crypto project everyday be like.pic.twitter.com/o0mMnQC8ve

— Panama Crypto (@Panama_TJ) September 28, 2020
__
It's a simple and extremely honest reply.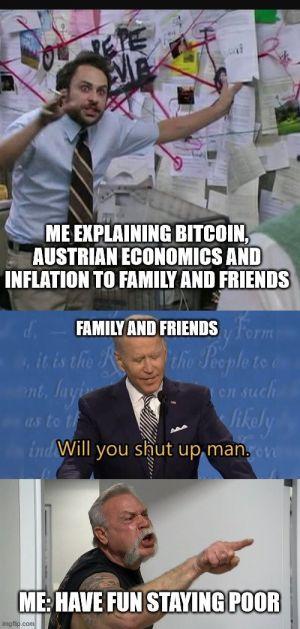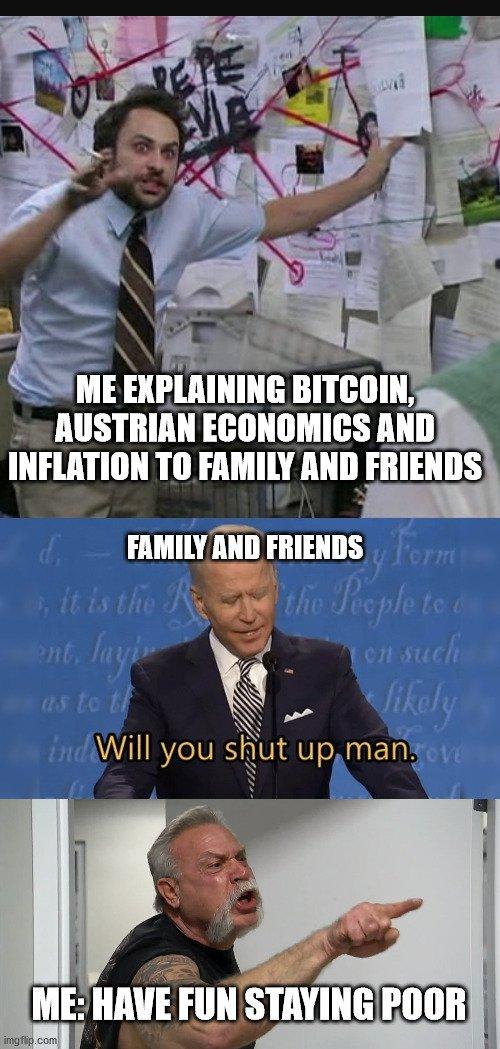 __
A sound plan. Makes all the sense.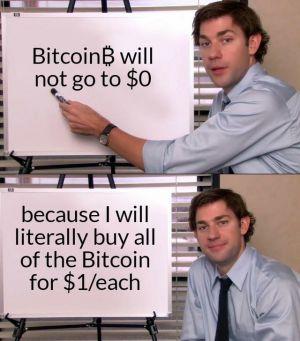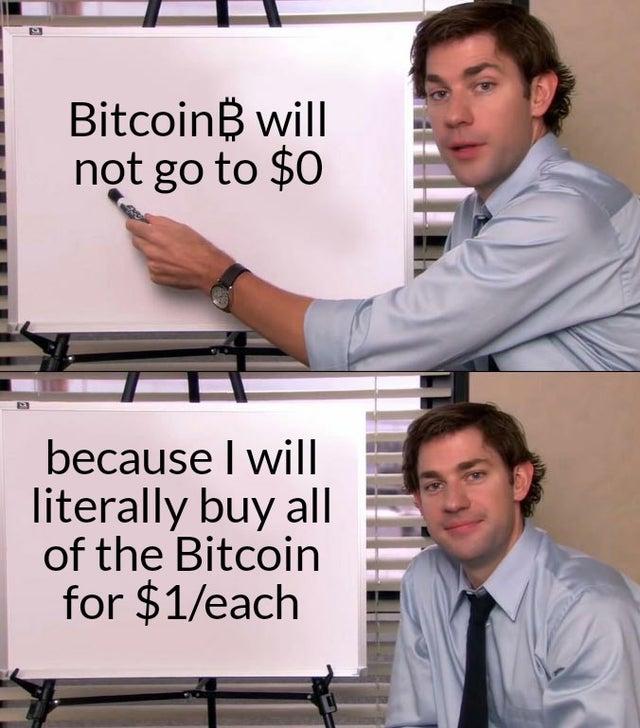 __
Here's a reply to that question in a chart for higher clarity of comprehension.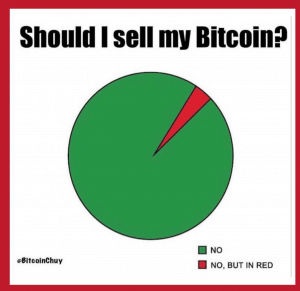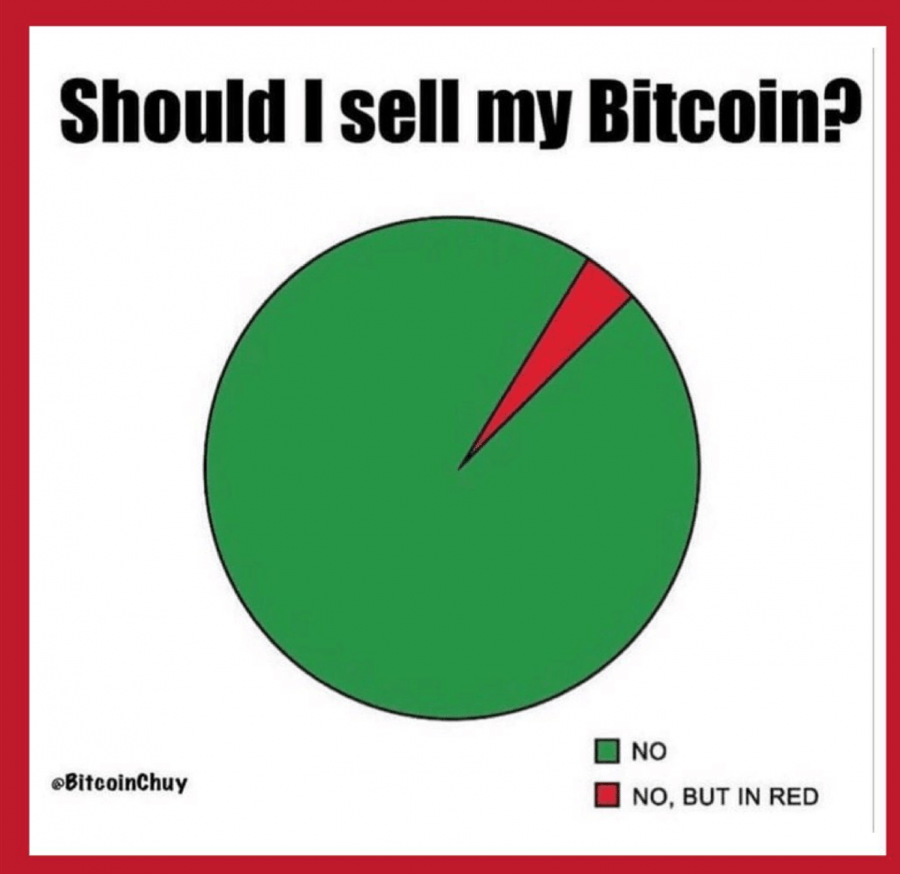 __
Recognise anybody you know?
__
A short reminder to remember to not forget to be careful what you invest in.
__
And a short reminder where you might be eventually.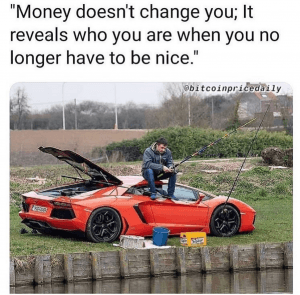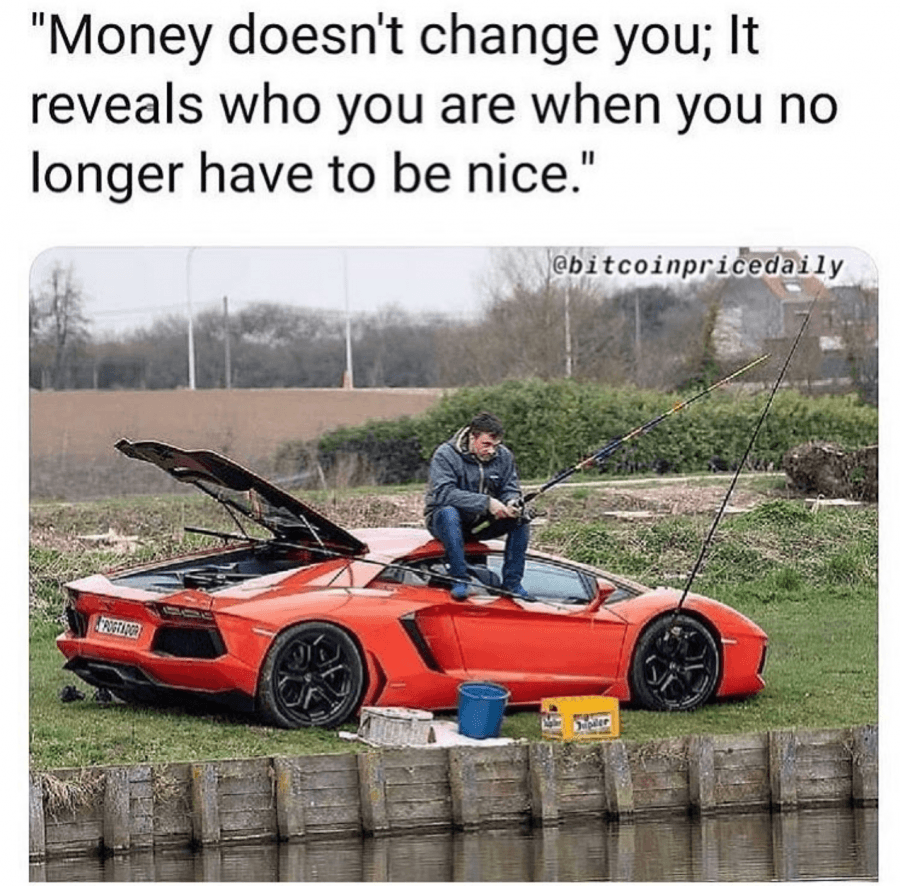 __
And for the end, let's look back at one crypto week.
This Week in $crypto pic.twitter.com/cK6P5gD4zk

— Koroush AK (@KoroushAK) October 2, 2020
__
And yet:
__
Because:
Bitcoin is always staying tall and proudly from r/CryptoCurrency