Ethereum 2.0 (ETH 2.0) deposit contract surpassed 50% of staked ETH needed for the Phase 0 launch, as the coin's price rallies.
The price has been surging this past week, surpassing the USD 500 level for the first time in more than two years. At the time of writing (11:15 UTC), ETH trades at USD 597 and is up by 11% in a day and 31% in a week. It rallied by 43% in a month and 293% in a year.
ETH is the second-best performer among the top 10 coins today only after cardano (ADA) (+17%). Meanwhile, bitcoin (BTC) is up by 3%, trading at USD 18,642.
Meanwhile, the situation has been developing further on the deposit contract front. On November 22, an 'eth2validators' Twitter post announced that "ETH2 Deposit Contract has reached 50%!"
The #eth2 deposit contract has reached more than half of its target (currently at ~278000 ETH deposited), with the bulk of the deposits taking place in the last three days!https://t.co/yqy87eMafV

— vitalik.eth (@VitalikButerin) November 22, 2020
At the time of writing, according to the data provided by Dune Analytics, ETH 287,200 has been sent to the deposit contract so far, which is 54.67% of the needed amount. A particular spike in number can be noticed in the past three days, with a record reached on November 22, with ETH 87,456 staked.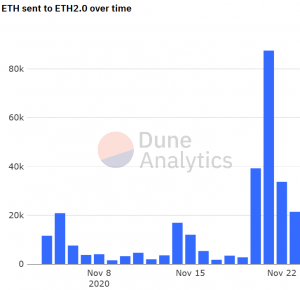 According to the ETH 2.0 Launch Pad, that number is higher, currently standing at ETH 306,176, or some 58% of the required threshold amount.
Furthermore, the number of unique ETH depositors is 1,029 so far, suggesting that – given the amount of the staked ETH, and that the minimum that can be staked is ETH 32 – Ethereum whales dominate this space.
The deposit contract is a crucial step before launching Phase 0 of ETH 2.0. As said previously, the minimum of ETH 524,288 is needed to trigger the genesis time, and it must be reached 7 days before December 1 for when the genesis was planned, or it will be triggered seven days after that threshold is reached, whenever that may be. But this also means that the remaining ether would need to be staked – by tomorrow.
Numerous people have been arguing that potential depositors, whales in particular, are waiting for the final moment to send their ETH. With this latest boost, at this speed, the threshold could be reached by mid-December. Unless depositors step up the game as the deadline is approaching fast, that is.
As reported last week, to help the struggling deposit contract reach its target number, Dubai-based entrepreneur and Chairman of investment company IBC Group, Khurram Shroff, agreed to add to it ETH 20,000 (currently USD 11.66m) – almost 4% of the needed threshold amount.
At the same time all this is happening, some industry observers are saying that the rising price is fueling the deposits which are in turn fueling the price. "The closer we get to 100% of 524K threshold, the higher the price of ETH," said Kelvin Koh, Co-founder and Partner at crypto hedge fund Spartan Capital. Koh added that "Don't need people to market buy ETH to send it higher. A steadily rising ratio signals the community's confidence in ETH 2.0 and the fact that people are willing to forego higher yields elsewhere to bet on the future of Ethereum."
Higher $ETH prices leading to more and more $ETH getting staked which leads to higher price floors which leads to higher $ETH prices which leads to more and more $ETH getting staked which leads to higher price floors. pic.twitter.com/wtGpwyzlHJ

— Loma (@LomahCrypto) November 23, 2020
And as the price was going up and the contract was getting filled, whales have been moving millions in their ETH, according to Whale Alert, with developer Anthony Sassano also noting the massive movements a couple of days ago.
For context – 68,064 ETH is worth around $35 million

— Anthony Sassano | sassal.eth 🏴 (@sassal0x) November 21, 2020
On the other hand, it seems that the voices with the Ethereum community calling for an earlier launch are getting lounder, even if the initial threshold is not reached. Earlier, Eric Conner, a product researcher at blockchain startup Gnosis, suggested that a "maximum date (Dec. 15 2020) for the Genesis event" should be added, meaning that "ETH 2.0 genesis kicks off even if we don't hit the required minimum deposit amount (ETH 524,288) in the current spec."
___
Learn more: Ethereum Foundation Sold ETH To Novogratz At Premium In 2015