This was quite a week for ethereum which reached its ATH territory in USD, though it remained far from its ATH against BTC. But some mining pools banded together to try and stop the EIP 1559. Meanwhile, as the bitcoin snowball is expected to hit more institutions in 2021, JP Morgan strategists told us to look at the Grayscale Bitcoin Trust inflows for the USD 40K breakout signs, but when Grayscale made a major purchase, BTC went 'meh'. And though the markets went red, altcoins may be set to receive some of the money going into BTC and ETH. As Bitcoin block 666,666 showed a Biblical message, and a battle was on over publishing Bitcoin whitepaper, investors who cashed in on their holdings before BTC hit USD 20K have been eating humble pie, while Lyn Alden said she invests in BTC but not in ETH because the latter is an unfinished product. Meanwhile, carmaking giants teamed up with auto insurance providers and tech heavyweights to work on a blockchain-powered vehicle history platform, while BlackRock revealed its intentions to invest in cash-settled BTC futures.
There's more. US Treasury Secretary nominee hinted at a new crypto environment and a potential unrealized gains tax, while stating that crypto has some benefits. While a former Coinbase exec might be replaced with a former Ripple advisor at the OCC, BIS announced work on a new blockchain-powered tokenization incentive, Japan's reportedly gearing up to move into the second phase of its three-part digital yen project, the UAE financial watchdog is set to regulate crypto by 2022, and a British financial advisor's petition to ban bitcoin transactions in the UK garnered just 124 signatures. Major South Korean carrier SKT launched blockchain-powered certification app, while the Upbit operator Dunamu launched a real-time digital assets "fear-greed" gauge. Maps.me took the DeFi plunge with a USD 50m fundraising effort, a Spanish football club said that it completed a transfer entirely in crypto, and a South Korean video games giant created a blockchain-powered tool for parents to monitor their offspring's gaming time. And another Hong Kong crypto trader got robbed.
As is the long and respected Cryptonews.com tradition, we present your weekly set of jokes.
__________
Hey, CT! What have you been up to this week?
me waiting for $eth ATHs pic.twitter.com/7Dk2ws3LRQ

— The Crypto Dog📈 (@TheCryptoDog) January 18, 2021
__
Let's see what kind of existential questions is Crypto Twitter pondering this week.
What if ALTs are just trading me

— Loma (@LomahCrypto) January 19, 2021
__
It was an eventful week.
__
Uuu, a twist. Bitcoin in the role of a volatile drama queen.
__
And speaking of bitcoin with a gun (as is a normal thing to speak of):
__
It survived last March, it'll survive this.
BTC lookin like the heart monitor of someone on life support. pic.twitter.com/0ta0dMwGsv

— Rekt (@rektcryptofox) January 20, 2021
__
Well, look, it's gonna go over 40K again anyways…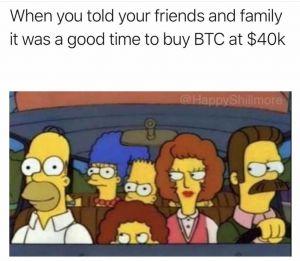 __
Bitcoin maximalists in one meme. Replace tether with literally anything, you'll get the same thing.
Don't care, heard it all before 😒#TetherFUD #FUD #Bitcoin pic.twitter.com/xumpHyeLBn

— RD ₿TC (@RD_btc) January 17, 2021
__
In light of Lyn Arden's recent report.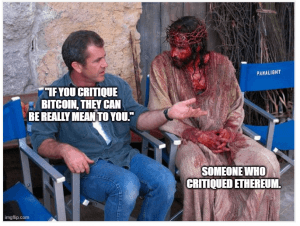 __
Here's the difference between BTC and the Fed.
The survival of the fittest https://t.co/R0eAo1HGhX pic.twitter.com/K8Mwo7vlWL

— Nicolas Dorier (@NicolasDorier) January 18, 2021
__
But…but I bought it.
When you buy and it doesn't immediately pump pic.twitter.com/YI7ZOGys5E

— yTedd (@TeddyCleps) January 20, 2021
__
Them bears be hungry.
Oh look.
Another beartard begging for food after he blew up his last account pic.twitter.com/HuZiiqMG7f

— The Crypto Monk ⛩️ (@thecryptomonk) January 18, 2021
__
Destiny at work here, people.
when you first stumbled upon the Bitcoin white paper it was like pic.twitter.com/MWJQ6MvjqA

— Matthew Graham (@mattysino) January 22, 2021
__
'And then, and then, they argued about it for days!'
"And then we put out some FUD about a double spend that never actually happened" pic.twitter.com/kGiqDEdMUK

— Michael Goldstein (@bitstein) January 22, 2021
__
And HODL for all.
Proof is in the picture. He is literally signing the order in it

— Nick Core 🏆 (@Crypto_Core) January 21, 2021
__
Biden said no.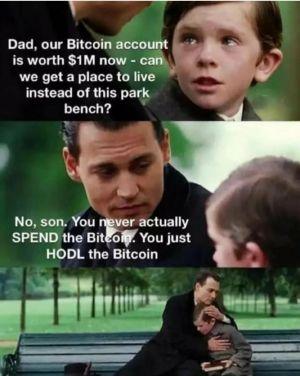 __
Hodling since antiquity.
Monotheism.https://t.co/hYVCYDMZxc

— Gigi ⏳☯️ (@dergigi) January 20, 2021
__
Oookay, time to back away very slowly.
When you realize that support levels are not as strong as you think they are. pic.twitter.com/4OKjqVx8K5

— Sven Henrich (@NorthmanTrader) January 21, 2021
__
Pfft! They missed the biggest conspiracy of them all: there's no buying crypto, just paying money to receive a certain amount of coins.
ALSO UNCOVERED: THERE'S NO SUNRISE IN THE MORNING; SUN ACTUALLY JUST RISES WHEN THE DAY BEGINS

— Udi Wertheimer (@udiWertheimer) January 22, 2021
__
And of course, you're crypto movie.
"Alt Season" from r/Bitcoin