News
Ethereum Close to ATH Against USD, But Far from ATH Against Bitcoin
Even though Ethereum (ETH) is getting closer to its all-time high (ATH) against the US dollar, it's still many satoshis away from its ATH against bitcoin (BTC). (Updated at 12:09 PM UTC with the latest price data.)
Three years after reaching a major peak, ethereum may be surpassing it soon. It reached its previous all-time high on January 13, 2018, with the price of USD 1,432 per coin, according to Coinpaprika.com. As it had rallied up, it had dropped back down in the following months, only to start rallying again in late 2020 and particularly the first weeks of 2021.
The second coin by market capitalization has gone up 14% in a day, 28% in a week, and 118% in a month. With the current price of USD 1,417 at 12:07 PM UTC, ETH is just USD 15 away from breaking the previous record – in USD that is.
$ETH looks like it wants a new all time high.

— The Wolf Of All Streets (@scottmelker) January 19, 2021
In BTC, however, it's still very far from breaking the all-time high. Here, the story goes a bit differently. The peak was reached earlier than the one in USD – in June 2017, when ETH 1 was worth BTC 0.154. (Meanwhile, for fun, this amount of BTC was worth USD 406 at the time, and around USD 5,700 currently.)
However, a single ETH is worth just BTC 0.038 at the time of writing. That is a 75% difference. What's more, while short-lived spikes are noticeable on a shorter time scale, zoomed out to observe the entire ETH's lifetime, the value in BTC has more or less remained unchanged since September 2018.
ETH price chart: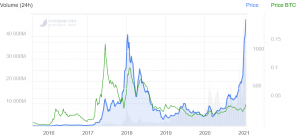 ETH ATH was ~0.15, current price is ~0.035.

😬

— Impersonator of Pierre Rochard (@pierre_rochard) January 19, 2021
That said, in USD terms, ETH still seems to be in a rallying mode, aiming higher – going up more than 23% in a week, compared to bitcoin's 1% – while BTC has traded between the USD 35,000 and USD 37,000 level for the past four days, currently sitting at USD 37,331. Also, while BTC appreciated nearly 329% in a year, ETH went up nearly 740% in that same time.
"Bitcoin has been in a range for the past few weeks, which gives time for capital to rotate" into other digital assets, Vijay Ayyar, head of business development with crypto exchange Luno was quoted as saying by Bloomberg.
According to economist and trader Alex Krüger, "Ethereum will soon pass to the next level," while the levels "to watch beyond all time highs" are USD 1500, USD 1600, USD 1920, USD 2000, USD 2240, USD 2500, and USD 2750, he said.
Per an analyst at crypto research firm Messari, Ryan Watkins, there's plenty of reason to be bullish on ETH, as Ethereum's daily transaction volume is going parabolic. Per Coinpaprika.com, the volume jumped from USD 20.76bn to USD 30bn (and from BTC 565,961 to BTC 813,405) between January 18 and 19, while it had been at USD 30bn four days ago as well.
Ethereum's daily transaction volume is going parabolic.

It now settles $12 billion in transactions daily – $3 billion more than Bitcoin.

Imagine not being bullish $ETH. pic.twitter.com/3NfOz1ruiM

— Ryan Watkins (@RyanWatkins_) January 19, 2021
Meanwhile, a couple of days ago, crypto analytics firm Santiment noted that the ratio of ETH on exchanges continues to decrease and move to offline holder wallets, calling it "one of the most promising signs for ETH bulls." Today they tweeted that, as it was "anticipated for much of the past week, Ethereum finally created separation from Bitcoin on surging non-exchange whale accumulation & ETH tokens moving off exchanges."
And all this said, when it comes to ATHs, be it bitcoin's or ethereum's, there are some disagreements over what their historic ceilings actually are, as different platforms provide slightly different data. Nonetheless, quite a few people are keeping an eye on the ETH price, waiting to see it break the record (in USD), and/or expecting the full coin bloom in an altseason.
___
Learn more:
Ethereum is Still an Unfinished Product, Says Bitcoin Investor Lyn Alden
What's in Store for Ethereum in 2021?
"Ethereum Is (Not) Money" Trigger Tested Again And It Still Works
Bitcoin vs. Ethereum Fight Escalates amid Fresh Capital Entering the Space
Bitcoin Is Better Than Ethereum At These Four Things