US-based investment banking giant JPMorgan, led by crypto skeptic Jamie Dimon, reportedly allows its financial advisors to offer almost all its wealth management clients crypto funds.
The news came via an internal memo that said clients can now trade five different crypto trusts from providers such as Grayscale Investments to Osprey Fund, Business Insider reported (via The Street), citing an undisclosed source.
JPMorgan clients can now invest in crypto via these five trusts: Grayscale Bitcoin Trust, Grayscale Bitcoin Cash Trust, Grayscale Ethereum Trust, Grayscale Ethereum Classic Trust, and Osprey Bitcoin Trust.
JPMorgan declined to comment on the report.
As reported, in May, Dimon reiterated he has no interest in bitcoin (BTC) in spite of the fact that his company is reportedly on the verge of launching a ground-breaking bitcoin fund.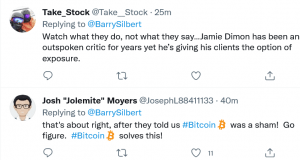 However, besides JPMorgan, other banking giants are also increasingly looking into crypto-related services. Yesterday, the oldest bank in the US, New York Mellon Corp., said it has joined another US-based financial giant State Street in order to develop "a platform to support the entire digital asset life cycle."
Goldman Sachs has also begun trading bitcoin futures with Galaxy Digital, while "a surge in interest from clients" has motivated Citigroup to move into the world of crypto too.
____
Learn more:
– With Banks Turning to Bitcoin, Is It Finally Time to Long the Bankers?
– Barclays' Binance Customers Looking for Alternative Apps, Banks & Countries
– Billionaire Dismisses ETH, DOGE, Backs XMR, ZEC, Says His Bank Will Accept BTC
– Paxos, Protego & Anchorage Face 'Regulatory Volatility' in US