The world's most popular cryptocurrency, bitcoin (BTC), once again stands over USD 11,000, fueled by the news from Square.
Bitcoin has been outperformed by several coins in the top 10 by market capitalization today, and it's the second least appreciating coin in that group (right after bitcoin SV (BSV)) over the course of the past week. However, what comparatively little it has gone up pushed bitcoin over that, by now (in)famous, USD 11,000 mark.
BTC has gone up 3% in the past 24 hours, and almost 6% in the past 7 days, bringing it to the current (USD 13:29) price of USD 11,075. This is relatively near its highest point recorded in the last 30 days of USD 11,142. Meanwhile, it's still far from its highest price this year of USD 12,382.
Bitcoin price chart: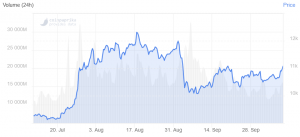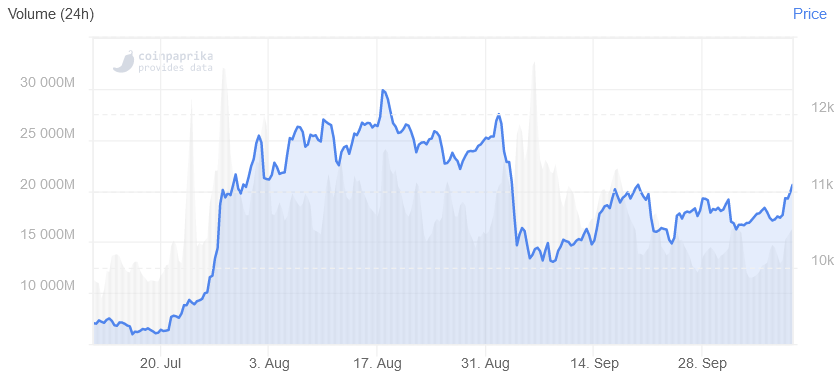 Crypto market analysis firm Coin Metrics described BTC's performance in the last week as "remarkable," despite a number of factors that could've worked against it, adding that they "like what they are seeing on-chain from a fundamental growth perspective."
1/9 Bitcoin has performed remarkably these past few weeks despite:
-Most of DeFi falling 50-80%
-CFTC charging BitMEX
-POTUS contracting Covid
-Delayed stimulus talks
-FCA announcing a derivative ban for retail

Why? Let's see what we can find on-chain

— CoinMetrics.io (@coinmetrics) October 9, 2020
The firm found that the number of bitcoin whales continues to increase, indicating positive expectations for the future of bitcoin; hodl activity is increased; BTC transfer count is growing steadily; and scarcity may be higher than expected as only BTC 6.8m, or 36.7% of total supply, have been active in the last year.
"Bitcoin's Realized Cap has been steadily increasing just as it did before the 2017 bull market took off. If it continues as it did in 2017, 2021 should be an interesting year," Coin Metrics said.
Meanwhile, crypto analyst Willy Woo commented that "we are seeing new HODLers right now," and that "many other *unannounced* investors have been scooping coins off the market."
Square's buy of 4,709 BTC and Microstrategy's 38,250 BTC is the tip of the iceberg. The last 8 months has seen a reduction of 250,000 BTC in the speculative stockpile sitting on exchanges signalling many other *unannounced* investors have been scooping coins off the market. https://t.co/OwsQvvG2eS

— Willy Woo (@woonomic) October 9, 2020
____
Learn more:
'Bitcoin Quacks Like a Growth Stock'
Bitcoin Can't be Correlated to Traditional Assets – Virgin Galactic Chairman
What And How 'Slow' Bitcoin Wins In The Storm Of Crypto Innovations
4 Reasons Bitcoin May Hit USD 1-5 Trillion Market Cap in 10 Years
Crypto Is Immune to These Headlines On Trump and BitMEX