The text below is an advertorial article that was not written by Cryptonews.com journalists.
It is not every day that an Ethereum competitor emerges and whose underlying engineering quality is recognised by Vitalik Buterin himself.
We would like to talk to you about Avalanche. Its CEO, Emin Gün Sirer is a renowned cryptographer, inventor of highly scalable distributed network protocols and the first person, incidentally, to have launched a proof-of-work based cryptocurrency. And yes, it was before Satoshi. It should be added that the team includes among its members Maofan Yin, the inventor of the protocol at the heart of Libra's consensus mechanism.
The description need not be continued in order to understand what Mr. Buterin is referring to. A team like this is not there to sell CryptoKitties.
What users and developers needed
As users, Avalanche's commitment is simple. A transaction will be processed in less than a second and the network capacity will be equivalent to Visa, the world's largest payment gateway. This is a real change from the bottlenecks of pre-Avalanche blockchains.
But developers will not be forgotten. Not only will they be able to program new smart contracts at the application level thanks to full compatibility with the Ethereum Virtual Machine, but above all they will be able to control the structure of the network itself in order to better manage the confidentiality of the data stored on it. Finally, the developers will be able to adjust the network speed to their needs thanks to a sharding system that can be customised to suit different requirements.
AVAX: a deflationary cryptocurrency
Avalanche's native token, AVAX, is completely inflation-proof. Indeed, the maximum quantity of AVAX in circulation is algorithmically set at 720 million tokens, but more remarkably, the network predicts that every AVAX used in transaction fees will be burned, increasing scarcity and therefore mechanically the token price. Through this mechanism, AVAX joins the very closed circle of deflationary cryptocurrencies.
What made the AVAX investment a success?
Avalanche's other great strength lies in its community of developers and ambassadors. With 100,000 members on Twitter and 15,000 members on Telegram, the community has mobilised more than 1,000 block producers to test the resilience and speed of the platform during the launch of the test version. Support for the project is palpable, to the point that AVAX claims one of the lowest rates of token subscriptions from private investors because more than 70% of subscriptions came from committed individuals and stakeholders in the Avalanche ecosystem.
How to invest in AVAX?
You do not have to be a member of the early Avalanche community or a miner to be able to receive AVAX. Much simpler alternatives exist. For example, in its staking offer, Feel-Mining offers you staking rewards at almost 10% on average for AVAX.
How does it work? The principle is simple: by agreeing to provide your money or your cryptocurrency as collateral for 14 days on Avalanche, a proof-of-stake-based network. You bring the network extra security and get rewarded accordingly. In a few words: high-tech within reach. At the time of writing this article, you will need at least 25 AVAX, or 87€, to invest in Avalanche.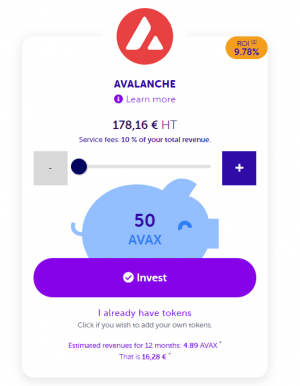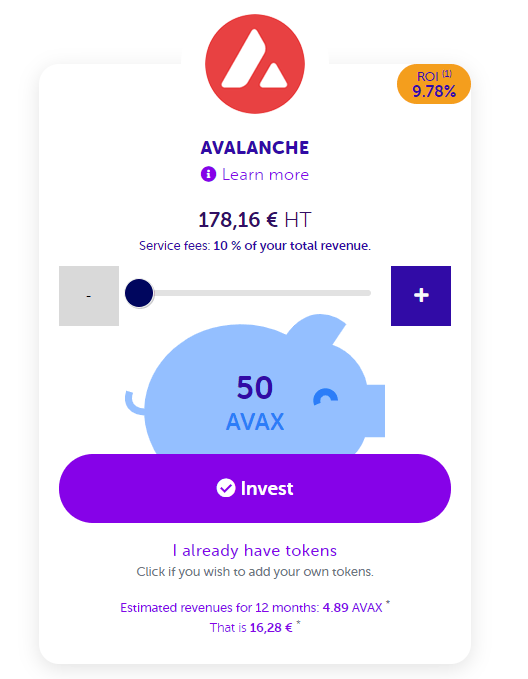 In addition, Feel-Mining also offers hosting of mining servers as well as masternodes services.The latter offer allows you to benefit from the mining performed by a masternode on a cryptocurrency of your choice, without having to worry about technology or maintenance. The investment and disinvestment are made in a matter of moments, enabling access to mining for a greater number of cryptos enthusiasts.
The code NEIGE2 will give you a discount voucher for the staking from 8 to 15 October. For all other Feel-Mining items you can use CRYPTONEWS.


See also our latest articles on Feel-Mining :
→ When your money makes more money
→ Generate Benefits every five minutes